< back to collection
> CYBER BAND® Orange Apple Watch Band
products/cyber_band_apple_watch_band_orange_1.jpg
products/cyber_band_apple_watch_band_orange_2.jpg
DRESSED TO IMPRESS

We've built this band to be the perfect companion for you, wherever life takes you. From your workout to your night out, the CYBER BAND® will feel natural next to your skin, never looking out of place.

No effort has been spared to create a band worthy of the GRAY® logo. Deep ridges run along the length of the band, allowing it to take on a multi-faceted profile that stands out from the crowd. As an icing on the cake, an elegant clasp mechanism completes the aesthetic. Strong, confident, rebellious, this luxury apple watch band embodies the GRAY® spirit.

LUXURIOUS YET HIGH PERFORMANCE

Made from FKM fluoroelastomer, the designer apple watch band is durable and high-performance, yet incredibly comfortable. The band is ready to match your toughest workout with optimal comfort, never interfering with your physical movements. So comfortable, in fact, it will leave you wishing there was more time in the day to use it.
Customer Reviews
31 Jan 2023
Tony G.

United States
Orange Cyber Watch Band
I just received my Gray Apple Cyber Watch Band in its beautiful packaging .It fits perfectly and looks incredibly great on my Apple Watch Ultra. This Cyber Band is certainly more than substantial enough to be paired with my 49mm APPLE WATCH ULTRA. It definitely makes this unique new Apple Watch Ultra stand out in the crowd. This is my second Gray product in addition to my Titanium Vandium Card Wallet……..Great products and especially great customer service!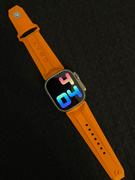 28 Jun 2022
Jared

Singapore
Favourite Apple Watch Band
Received my cyber watch titanium 7 case recently and realised there was a very slight issue with the product. The team at Gray, particularly Liz, was very helpful. They patiently heard my request and happily swapped the product for me. The titanium case is aesthetically pleasing, made of flawless quality, looks futuristic and stands out in the crowd, and most importantly, functional. As a fan of the McLaren Formula 1 team, I picked the orange watch strap separately and am pleased at how well it complements the case. Would definitely recommend this product to anyone out there who wants something unique. Well done to Gray on developing such a stunning watch case.